Content
Article Creation
Creating new content for your website is key to demonstrating that you are an expert in your field.
Adding new content to your website allows google to index your website and connect you to the phrases contained within your article. If you want to be found on Google, content creation needs to be part of the plan.
Our expert copywriters excel at crafting high quality content. When an iRapture.com writer creates content for you, they will interview someone on your team so we may quote this person in the article. This allows us to treat your team as experts in your field and craft interesting content that your target audience is craving to find.
If you are interested in exploring what it would look like for iRapture.com to craft new content for you regularly, we will gladly show you relevant examples of our work and talk with you about your options. Pick up the phone and lets talk.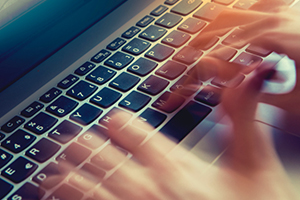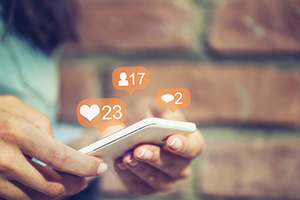 Social Media Posts
Social media is an excellent way for to build a first impression of your company or be constantly updated with you new ideas.
We can help you craft high quality posts and schedule these posts to go out at the desired intervals to keep your social media accounts active.
Our team includes a social media expert who thrives at creating beautiful social media content.
We would like to understand how often you would like to have posts published and which social media platforms you would like to use. Once we have an idea of what you need, we can provide you with a plan along with a proposal for us to work for you. Give us a call to talk about what we can do for you.
Infographics
Infographics will be most effective for communicating with visual people who prefer to look at visual elements more so than paragraphs of text.
Infographics are great content for social media sites like Facebook, websites, blogs, and so on. They can help you explain any sort of content and increase how interesting the content is to look at for those who are visual learners in your audience.
An Infographic can take the message of a page and reiterate it in a way that keeps someone intrigued and connected as they absorb the message contained within.
Our Infographic expert, Jeremy Lefevre, has a background in journalism, writing and excels at explaining big ideas in an easy to understand format.
He can take a page of content and create a visual story through an Infographic that bolsters the existing message within a page of content.
Please contact us to learn more about how an Infographic can help you communicate your message better.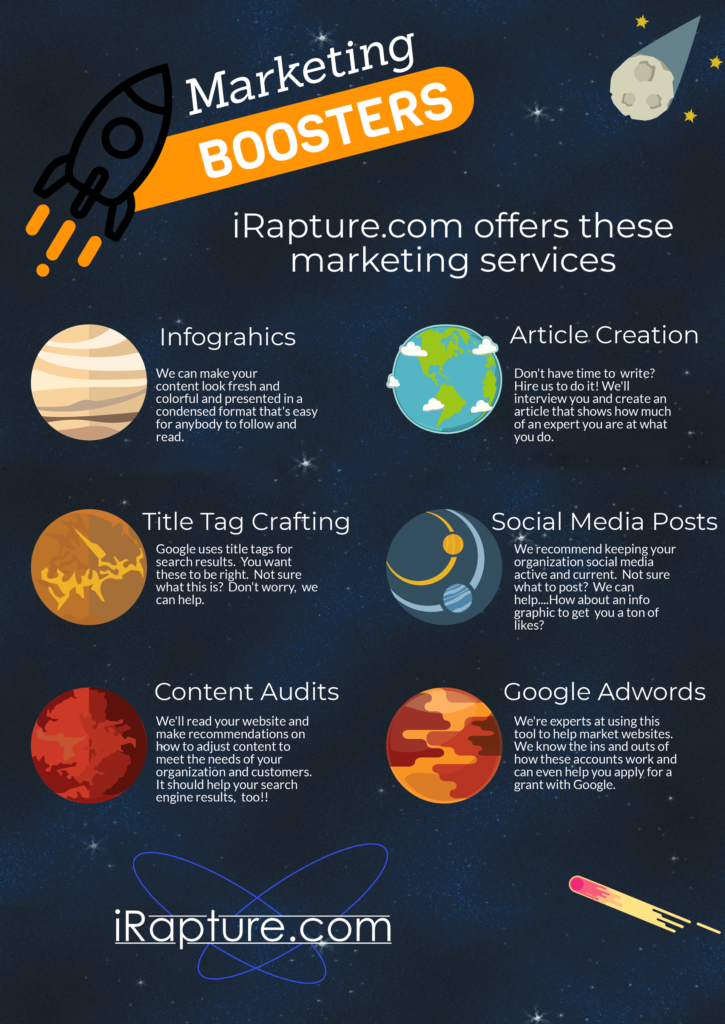 Video Production
Videos are excellent content and can help your audience understand what you are trying to say quickly and effectively. Video content allows for body language and audible tones to help communicate the desired message. When speaking on video, emphasis can be placed on the appropriate words to make the message clear.
We can help you communicate better with video.
Our professional video production team includes a seasoned videographer, high-end video equipment, a professional video editor, a professional lighting expert with several professional light kits, a makeup artist, support grips, professional actors and actresses, professional voice talent, an expert copywriter and a director to bring everything together to produce a video that captures your vision.
We would enjoy talking to you about the details of your idea so we can share in your enthusiasm and get your new video project underway. Call us at 877-488-7999 to start the conversation.
Website Audits
After your website has been online for a few months, it is time to audit it and look for all of the opportunities to improve it. We are very skilled at looking for opportunities to improve a website and we can clearly explain why each change would reasonably result in an improvement to your website. With a website content audit, we can help you locate opportunities to refine and improve your current website based on what you are trying to accomplish with your target audience. The results of a content audit will provide you with a list of ideas that you can consider having iRapture.com work through to fine tune your website. A few common findings include website code that is not compatible with top internet browsers or content that is not working toward helping you achieve your goals.
After the website content audit, we can provide a proposal for fixing all of the problems and working on the opportunities for improvement.
Contact our sales team at 877-488-7999 to request a content audit on your website.